Show
Are you craving for an adrenaline-boosting, action-packed element to your particular event?
No motor interest is needed for it to tickle the stomach and give an exciting adrenaline rush to the audience.
You have the ideas, we have the solution!
It can take place at all different kinds of events and the like, for example markets, city parties, festivals, school graduations, different inaugurations and more, it is only the imagination that sets the limits!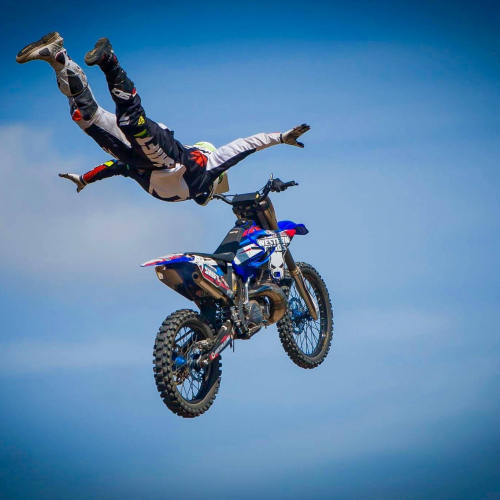 No events are too big or too small, so do not hesitate to contact us for more info / price suggestions. Contact information can be found under the tab "CONTACT" in the menu bar, or use the form at the bottom of the page.
WHAT IS NEEDED FOR A SHOW?
It depends on which different branches the show should contain, but if we look at FMX (Freestyle motocross) for example, the only thing that is needed is a flat surface of about 80x10m, surface does not matter much, it goes well with grass, gravel or asphalt.
We have portable equipment (Ramp and landing) that we assemble up and down ourselves.
The convenient thing is that it is left in the same condition when we go as when we got there.
So a flat surface is all that is required and we will solve the rest!
If, for example, a motorcycle stunt or UTV drifting is to be included, an asphalted plan is required, email / call for more info!
WHAT DOES A SHOW COST?
The price varies depending on which elements are to be included in the show, number of drivers / performers and how many shows / performances are desired.
For a quote / more info, please email or call (contact information can be found under the tab "CONTACT" in the menu bar)
SOME EXAMPLES OF SHOWS WE HAVE RUN:
-GATEBIL in Norway (Rudskogen) and in Sweden (Mantorp)
-Höljes rallycross
-Monster jam at Ullevi
-Hojrock in Västervik
-Ski and rock, Sälen, högfjällshotellet
-Bugrun, Mantorp och Strängnäs
-Unlimited Racing, Laappenranta, Finland
-Bilsport performance and custom show, Elmia, Jönköping